This recipe is specifically created to enhance our Beef tartare with shiitake mushrooms, red beet vinaigrette and Parmesan shavings recipe (see recipe here).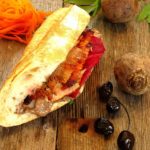 INGREDIENTS
125 ml (½ cup) Italian (flat) parsley leaves
125 ml (½ cup) fresh mint leaves
125 ml (½ cup) homemade or good quality mayonnaise
1 clove garlic
45 ml (3 tablespoons) black olive and black pepper water pomade*
2 fresh baguettes (French bread)
Fresh cracked pepper Marinated pork*
Red beets marinated in crème de cassis (blackcurrant liqueur) and red wine vinegar*
*These three recipes are available here: black olive pomade, marinated pork, marinated beets.
INSTRUCTIONS
Remove enough leaves from the parsley and mint bunches, rinse in cold water and pat dry.
Chop the herbs and place them in a bowl. Pour the mayo over them; crush the garlic clove using a garlic crusher and mix everything well. Add the black olive pomade, cracked pepper to taste, mix again and reserve.
Slice the pork meat thinly and reserve.
Heat the baguettes in the oven for a few minutes to make them warm and crusty.
Slice the bread in half and again lengthwise, making sure you don't cut through to keep one side attached.
Spread a copious amount of the mayo mix on the inside of the baguettes sections, add the pork slices and marinated beets, close the sandwich and serve immediately!
Aromatic Trail
Time to whip out your favorite grenache-, syrah- and or mourvèdre based reds here, such as the Côtes-du-Rhône de Chartier.

Aromatic Tricks
Carrots, daikon, cucumbers and cilantro are the traditional aromatic ingredients of this Vietnamese sandwich served in a baguette. These ingredients are all in the anise aromatic family, so you can have fun, like we did, without losing sight of the flavor DNA, and play around with variations to create your own custom version of this delightful sandwich. This version we propose here was created specifically to pair with red wines that are based on syrah, grenache and/or mourvèdre. Parsley and mint shine brightly when paired with the black olives, black pepper and red beets triumvirate, and this dream team creates small miracles when paired with this type of syrah-based red wine. One could also sprinkle a little nori seaweed flakes inside the sandwich, since it, too, is in the same aromatic family as syrah-based wines.