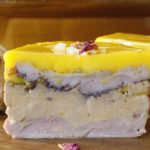 INGREDIENTS
3 fresh quails
225 g (1/2 lb) fresh foie gras
8 syrup-covered lychee fruits
5 mL (1 tsp.) fine salt
5 mL (1 tsp.) fresh ginger
5 mL (1 tsp.) rose petals
½ tsp. powdered Espelette pepper
Frozen ginger and/or mango
INSTRUCTIONS
Debone the quail breasts and refrigerate.
Grate ginger and mix with fine salt.
Cover a terrine with plastic wrap.
Place a quail breast between two sheets of parchment paper and flatten with a meat cleaver.
Repeat the previous step with all breasts.
Season each breast with the ginger salt.
Place three half-breasts at the bottom of the terrine. It's crucial they fully cover the bottom of the terrine.
Carve thin slices of foie gras, season them with the ginger salt, and place in superimposed layers.
When creating the last foie gras layer, add the rose petals in addition to the salt.
Top with quail breasts and cover.
Cook in a bain-marie for 55 minutes at 150 °C (300 °F).
After removing from the oven, sprinkle the melted fat with the powdered Espelette pepper and freshly grated ginger. Refrigerate overnight.
The next day, unmould the terrine, place on a serving plate and enjoy with a toasted brioche.
Aromatic Trail
Building on this idea (one that I explain in more detail in the first volume of Taste Buds and Molecules), when you analyse the aromatic profile of volatile components of lychee, rose, mango and ginger, and of white varietal wines, you quickly realize they have great similarities. So imagine when a Vidal is paired with a beer developed along the aromatic trails of these foods. You can choose to served also a white wine from Gewürztraminer, who share so many aromatic compounds with rose, ginger and lychee.
Aromatic Tricks
For this recipe, we started off on the rose's trail, whose dominant aromatic molecule is also present in lychee, ginger and Vidal. The result is a foie gras and quail terrine, which will delight taste buds with an explosion of ginger trapped hitherto under the fluorescent yellow grease on top. The lychee, for its part, remains subtle and discreet, which is rare for this fruit. Finally, don't hesitate to finely grate ginger (it's easier to grate when it's frozen), or frozen mango on each slice, when serving. The aromas of this combination will burst on the palate when you take your first bite!