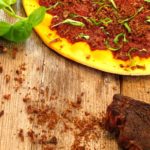 INGREDIENTS
1 ball of cloves-flavored pizza dough
125 ml (½ cup) of tomato pesto 
One piece of beef that you will deep roast (super well-done) in the oven
1 ball of fresh mozzarella thinly sliced
Fresh Thai basil, roughly chopped
INSTRUCTIONS
Preheat the oven to 190 °C (375 °F).
On a floured flat work surface, spread you pizza dough and then place it on a baking sheet. Spread a layer of tomato pesto.
Using a microplane, grate the deep-roasted piece of beef to form a thin layer of breadcrumb-like over the whole surface of the pizza, and place the mozzarella slices on top of it all.
Bake in the center of the oven for about 30 minutes.
Remove from the oven and sprinkle with the roughly chopped Thai basil. You could also replace the Thai basil with a sprinkle of cloves.
Aromatic Trail
When you go cloves to the max, you want oak barrel-aged wines, or even chardonnay-, grenache blanc-, rolle- and/or roussanne-based white wines from the Languedoc.
Aromatic Tricks
Eugenol is the aromatic compound that is responsible for the taste of cloves and which is also found in Thai basil, mozzarella and viande des Grisons (bündnerfleisch), as well as in certain sangiovese red wines. Imagine a pizza with all those ingredients: cloves to the max! Here for you, then, is a second version of our eugenol-based pizza on the aromatic path of cloves. This time, we used tomato pesto and first cut grilled beef, which is the exterior of an oven-roasted piece of meat.