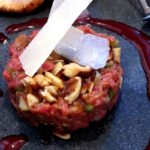 INGREDIENTS
Tartare
454 g (1 lb) beef filet
1 container (8 oz) fresh shiitake mushrooms
30 ml (2 tablespoons) oil
1 egg yolk
Parmesan shavings
Red beet vinaigrette (See recipe here)
Tartare sauce
2 shallots, minced
45 ml (3 tablespoons) Dijon mustard
15 ml (1 tablespoon) balsamic vinegar
Tabasco to taste
60 ml (1/4 cup) olive oil
15 g (1 tablespoon) chopped capers
Sea salt and fresh cracked pepper
INSTRUCTIONS
TARTARE SAUCE
In a large mixing bowl, combine all sauce ingredients except the oil and mix evenly. Incorporate the olive oil to the mix. Reserve.
TARTARE
Wipe the shiitake clean with a towel and dice them.
In a pan, melt the butter and sauté the mushroom until they have a nice golden color. Remove from the heat and let cool down to use in the final preparation.
Using a very sharp knife, finely mince your beef filet, or ask your butcher to do it for you. Reserve.
In a large mixing bowl, mix together the beef, mushrooms, tartare sauce and egg yolk. Mix evenly. Season to taste. Cover with a cling film and refrigerate.
FINISHING
Use a cookie cutter to shape the tartare in a plate.
Decorate the plates with the beet vinaigrette (see recipe here) which will be used as a complementary sauce and top the tartare «patties» with Parmesan shavings.
Aromatic Trail
What you need here is a sun-soaked red wine with warm tannins, which corresponds to the umami profile.
Aromatic Tricks
A classic tartare revisited to fine-tune the synergy with sangiovese reds, so that it yields an even more gourmet result. To achieve this, we went down the umami aromatic path, of which beef is part, as well as the Parmesan and shiitake. Adding the beet vinaigrette, which is on the aromatic path of oak barrels, consolidates even further the harmony with the sangiovese!