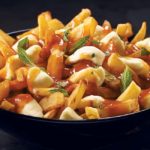 INGREDIENTS
10 YELLOW FLESHED POTATOES PEELED AND CUT INTO STRIPS (about 1/4 inch)
CANOLA OIL FOR DEEP FRYING
675 G (1 1/2 LB) CHEESE CURDS
60 ML (¼ CUP) CHOPPED FRESH MINT
15 ML (1 TBSP.) SRIRACHA SAUCE OR SAMBAL OELEK (ACCORDING TO YOUR PREFERENCE)
1 LITRE (4 CUPS) CHICKEN STOCK
80 ML (1/3 CUP) SOY SAUCE
80 ML (1/3 CUP) BROWN SUGAR
60 ML (¼ CUP) RICE VINEGAR
125 ML (½ CUP) KETCHUP
60 À 80 ML (1/4 TO 1/3 CUP) CORN STARCH
INSTRUCTIONS
GENERAL TAO SAUCE
In a saucepan, combine chicken stock, rice vinegar, soy sauce, brown sugar, ketchup and Sriracha, and bring to a boil. Boil for about 5 minutes.
Mix a little water in the corn starch and incorporate to the stock mix using a whisk. Simmer until it thickens.
FRIES
Soak the potatoes in cold water for at least 30 minutes and up to 24 hours in the fridge.
In a deep fryer, preheat the canola oil to 325 °F. Set a cooling rack over a cookie sheet.
Drain and dry the potatoes with a towel and place them in the fryer. Fry for about 2 minutes without colouring.
Drain the fries and place them on the cooling rack. Let them cool a little. Raise the temperature of the oil to 350 °F.
Put the potatoes back in the fryer for 2 to 4 minutes or until they are nicely golden browned. Remove the fries from the fryer and drained them on the cooling rack or on paper towels. Salt and keep warm.
Aromatic Trail
The aromas of cheese curds, Sriracha sauce and, especially, fresh mint, all ingredients that are found in this Tao poutine sauce recipe, ensuring a maximum of harmonies!
Aromatic Tricks
This classic Québec recipe has been revisited with an Asian twist, I was inspired, among other things, by the aromas of cheese curds, Sriracha sauce and fresh mint, which are both used in this Tao sauce.