The tomato / basil / olive oil triumvirate creates a strong aromatic synergy, and Italians have known this for a LONG time. What Chartier's aromatic science has confirmed, however, is that you can add panache to this recipe by topping it with shrimp and paprika!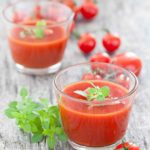 INGREDIENTS
6 perfectly ripe tomatoes, diced
1 clove of garlic, degermed (cut in half and remove any greenish parts at the center of the clove)
10 fresh basil leaves
60 ml (¼ cup) olive oil
5 ml (1 teaspoon) sherry vinegar
Salt
INSTRUCTIONS
Mix all the ingredients in a food processor to a very smooth texture.
Strain through a fine sieve and refrigerate.
Serve cold in glasses or bowls, topped with a skewer of shrimps that you'll have sprinkled with paprika, to taste.
Aromatic Trail
It's worth noting that all the ingredients in this recipe, as well as the suggested variations for serving — tomatoes, basil, olive oil, shrimp, saffron, paprika, peanuts, roasted sesame oil, sautéed potatoes —, can create a perfect aromatic harmony with rosé wines, especially with Pays d'Oc wines.
Aromatic Tricks
While remaining on the same aromatic path as Pays d'Oc wines and tomatoes, many variations can be use at the moment of serving this cold soup: finely diced and sautéed potatoes sprinkled with paprika, roasted sesame oil and dry roasted peanuts, or, as we have suggested above, shrimp sprinkled with paprika or saffron.