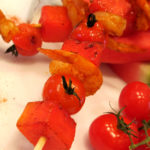 INGREDIENTS
24 cherry tomatoes
12 shrimp 31/40, peeled and deveined
1/4 water melon
1 ½ tsp (7.5 ml) paprika
1/3 cup (80 ml) olive oil
Bamboo skewers
INSTRUCTIONS
PREPARING THE SKEWERS
Wash and dry cherry tomatoes, cube watermelon to match the size of the tomatoes.
PREPARING THE PAPRIKA-SCENTED OIL
Mix olive oil and paprika. Set aside. 4. Spear shrimp, watermelon cubes and cherry tomatoes, alternating until each skewer is full.
Place skewers on the grill and cook on each side for a few minutes.
Brush cooked skewers with paprika-scented oil, and serve.
Aromatic Trail
Sauvignon blanc
Aromatic Tricks
Remember that when you think shrimp, you should also think watermelon, tomatoes, pink grapefruit, paprika, piment d'Espelette, peanuts, toasted sesame oil and soybean sprouts. All of these ingredients share the same aromatic profile. As you can imagine, these skewers can easily be transformed into a salad, or an Asian style stir-fry cooked in a wok, by substituting toasted sesame oil for the paprika-infused oil.