The idea for this incredibly simple but delicious spread stems from our recipe for concentrated red pepper paste (see recipe for Concentrated paste of roasted red peppers and roasted sesame oil), as well as from the power of aromatic attraction between foods of the same family. For example, foods with a "taste of cold" (see the eponymous chapter in the book Taste Buds and Molecules), the vegetal notes from some types of wines, but especially those from the Cabernet and Sauvignon Blanc families.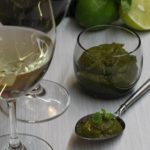 INGREDIENTS
6 large green peppers
1 tsp (5 ml) of creme de menthe
1 small lime
INSTRUCTIONS
Wash peppers, cut in half and remove seeds.
Submerge peppers in a large pot of boiling unsalted water for 2 minutes. Remove peppers and plunge immediately into an ice bath to stop the cooking process.
Once drained and cooled, place green peppers in a food processor and mix until liquefied.
Pour juice in a heavy bottom pot, and cook over low heat until nearly all of the liquid has evaporated. To hasten the evaporation process and get optimal results, cook for 1 hour in a large heavy bottom pot. You should obtain a dry, fragrant paste.
Once you have obtained the desired texture, add the creme de menthe, cook for another 2 minutes and transfer to a Masson jar. Refrigerate.
NOTE: To magnify pairings, you should stir in a few drops of fresh lime juice just before serving. Lime, mint and green pepper all have what we call a "taste of cold". Adding lime juice will enhance the freshness of the concentrated paste and ensure aromatic harmony.
NOTES
SOURCE: THIS RECIPE IS FROM LA SÉLECTION CHARTIER 2011, P. 51.
Aromatic Trail
There is a substantial presence of pyrazines in both green peppers and mint. This family of molecules is also found in wines that are made with Cabernet Sauvignon, Cabernet Franc, Merlot, Carmenère, Malbec and Sauvignon Blanc. And just like that, harmonic roads are traced! You simply have to choose your favourite wines made from one of these varieties and you will find perfect harmony.
Aromatic Tricks
Brush onto cooked white or red meat, on veal carpaccio, or simply serve as a spoon canapé, or in a verrine (small glass) topped with a shrimp (paring with white wine), or finely minced grilled meat (pairing with red wine).