In February 2008, Stéphane Modat and I started on the path to this recipe, originally a sphere of charred red peppers, during a molecular tasting with the oenologue Pascal Chatonnet, for his wines Lalande-de-Pomerol and de Saint-Émilion.
Although this recipe has evolved tremendously since and has taken different forms, such as this one, it remains a concentrated paste that is to be spread right before serving.
Simple, delicious and in perfect harmony with a multitude of red wines!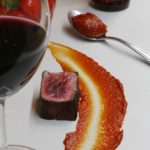 INGREDIENTS
6 large red bell peppers
1 tsp. (5 ml) toasted sesame oil
INSTRUCTIONS
Preheat oven t 400ºF (200ºC). Arrange red peppers on a cookie sheet and place on the highest rack in the oven.
To get evenly charred skins, turn peppers a quarter turn every 15 minutes or so.
When peppers are completely charred, remove them from the oven, place in a bowl large enough to accommodate all 6 peppers, and cover with plastic wrap.
Once the peppers have cooled, remove charred skins and reserve on the side.
Slit open peppers and remove seeds with a spoon. Place peppers and half of the charred skins in a food processor and blend to a smooth puree.
Pour puree through a fine sieve into a heavy bottom pot and cook on very low heat, whisking often. The consistency you are looking is that of tomato paste, with as little liquid as possible. To hasten the evaporation process and get optimal results, cook for 1 hour in a large heavy bottom pot. You should obtain a dry, fragrant paste.
Once the paste is cooked, stir in toasted sesame oil, and transfer to a Masson jar. Refrigerate.
NOTES
SOURCE: THIS RECIPE IS FROM THE BOOK LA SÉLECTION CHARTIER 2011, P. 49.
Aromatic Trail
A Merlot from Libournais (Lalande-de-Pomerol/Saint-Émilion) or from the New World, as well as a Cabernet Franc from the Loire Valley (Saumur-Champigny/Chinon/Bourgueil) and Mencia from Bierzo, Spain.
Aromatic Tricks
Ideal on tuna or salmon tataki, on grilled meat, and on beef carpaccio that has been lightly seared on the surface (grilled meat goes perfectly well with charred peppers and toasted sesame oil), or on grilled bread as a canapé.