This recipe is specifically created to enhance our Beef tartare with shiitake mushrooms, red beet vinaigrette and Parmesan shavings recipe (see recipe here).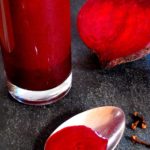 INGREDIENTS
1 kg (2 lb) red beets
5 ml (1 teaspoon) balsamic vinegar
10 ml (2 teaspoons) soy sauce
4 whole cloves
5 ml (1 teaspoon) unsweetened cocoa
80 ml (1/3 cup) canola oil
INSTRUCTIONS
Juice the beets in a juicer.
In a thick-bottomed saucepan, reduce this juice until you get about 300 ml (2/3 cup) of reduction juice.
Incorporate the balsamic vinegar, soy sauce, cloves, cocoa and canola oil.
Using a hand mixer, emulsify everything and pour into a Mason jar. Refrigerate.
This vinaigrette created to pair with sangiovese will complement beef as well as pork, and even a duck magret, but it will shine when accompanying our Beef tartare with shiitake mushrooms, red beet vinaigrette and parmesan shavings.
Aromatic Trail
This vinaigrette was created specifically so that red wines such as the sangiovese do not lose their composure in the presence of vinaigrette. To do this, we followed the aromatic path of beets, cocoa and cloves, that are complementary to barrel-aged red wines, as New World pinot noirs and garnacha- and tempranillo-based Spanish wines.
Aromatic Tricks
The meeting of red beets, cocoa and cloves literally explodes on your taste buds because of the intense aromatic synergy between those three foods who share closely related volatile compounds that create a perfect synergy with sangiovese wines.