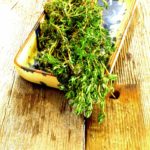 INGREDIENTS
3 large eggplants
Olive oil
1.5 kg (3 lbs) ground lamb
1 large yellow onion, minced
6 garlic cloves
15 ml (1 tablespoon) tomato paste
1 tin (796 ml, 28 oz) diced tomatoes
125 ml (½ cup) Moroccan black olives, pitted
5 ml (1 teaspoon) juniper berries
1 bay leaf
2,5 ml (½ teaspoon) saffron
5 ml (1 teaspoon) fresh ginger, grated
3 fresh sage leaves
3 sprigs fresh thyme
The leaves from 1 sprig fresh rosemary
125 ml (½ cup) breadcrumbs
Salt, pepper
INSTRUCTIONS
Preheat oven to 160 °C (325 °F).
Cut the eggplants lengthwise to obtain 1 cm (2/5th inch) thick slices. Sprinkle with salt and let them rest for 30 minutes.
In a large, thick-bottom saucepan, heat a small amount of olive oil and brown the lamb until it's golden. Add the onion and garlic and cook for a few more minutes.
Add the diced tomatoes, tomato paste and olives. Mix well. Add the herbs and spices and bring to a boil. Cover and place in the oven for 40 minutes.
While the meat mix cooks, rinse the eggplant slices and pat them dry.
In a large pan, brown the eggplant slices on both sides in oil.
Assemble the moussaka in an au gratin dish, alternating one layer of eggplants and one layer of meat mix, making sure you end with a layer of meat.
Sprinkle the top with the breadcrumbs and drizzle with olive oil. Cover and cook for 30 minutes. Remove the cover and cook for 30 more minutes.
Aromatic Trail
For this recipe, red wines from the Mediterranean basin should be privileged, especially syrah-, grenache-, and mourvèdre-based ones with their guarrigue notes, which are on the same tone as lamb meat and thyme.
Aromatic Tricks
Taking the classic lamb moussaka as a starting point, many aromatic paths become available based on the aromatic profile of lamb meat, especially thyme and all of its complementary flavors such as black olives, oregano, lovage, bergamot (Earl Grey tea), bay leaves, rosemary, juniper, sage, lavender, saffron and ginger. This is the same aromatic path as syrah-based wines.