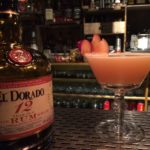 INGREDIENTS
1 ¾ oz. El Dorado 12 year-old rum
1 oz. plum-based Jinro Maehwasu, Japan 
½ oz. lime juice
1/3 oz. maple syrup
1 teaspoon ginger
½ plum
Glass: Cocktail glass
Garnish: Plum quarter
INSTRUCTIONS
Muddle the ginger and the plum in a shaker. Add other ingredients, shake and finely filter.
Aromatic Trail
This cocktail creates surprisingly pleasant harmonies with grilled meats and fish. Dark rum, and the complementary ingredients used in this cocktail share compounds with the grilled and roasted aromas of grilled meats and fish. the same phenomenon will occur with strong, smear-ripened cheeses.
Aromatic Tricks
This cocktail christened Prune Harbor was inspired by the aromatic profile of El Dorado's 12 year-old Rum, an incredible value for its price, as well as by Jinro Maehwasu, a Japanese plum-based liquor (hence the Plum Harbor name). It was created in close collaboration with mixologist Simon Faucher (Les Rouxquineries), with whom I shared of my research on the aromatic paths of rums and the complementary ingredients to mix cocktails and cook with, and once more, it will delight true dark rum lovers as well as the explorers of new Asian flavours! Notes of sweet spices, oak, ginger, maple and macerated plum in this cocktail become one and the same with this grandiose rum, creating a powerful aromatic synergy in this unique cocktail.