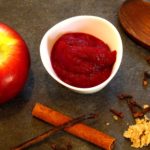 INGREDIENTS
1/2 tbsp (7.5 ml) vegetable oil
1 onion
2 garlic cloves
1 red apple
3 cloves
3 tbsp (35 g) brown sugar
1/4 cup (62.5 ml) white vinegar
1 tsp (5 ml) ground cinnamon
1/2 cup (125 ml) water
1/4 vanilla bean
1 tbsp (15 ml) tomato paste
2 lbs. (1 kg) red beets
INSTRUCTIONS
In a large saucepan, cook beets in salted water until tender and easily pierced with a knife. Peel cooked beets.
Place beets in food processor and blend until puréed. Set aside.
In a heavy saucepan, add vegetable oil, onions, garlic, peeled and diced apples, and cloves. Sauté until onions become golden.
Add brown sugar, and stir until caramelized.
Stir in tomato paste.
Deglaze with vinegar, and add cinnamon and seeds from the scraped vanilla bean. Mix well and bring to a boil. Cook for 2 minutes.
Add water and beet purée to onion mixture.
Cook to the right consistency, approximately 10 minutes.
Pour mixture into a food processor and run until puréed. Pour through a fine mesh sieve and pour into Mason jars. Let cool at room temperature. Refrigerate.
Aromatic Trick
As apples share many aromatic compounds with a variety of ingredients, they create strong aromatic synergies when paired with them. Among these ingredients, we find beet, clove, anise, cheese, as well as raspberries, rose, cinnamon and nutmeg. Consequently, we created two ketchups – see the other Golden beet ketchup with star anis recipe – with which you can make spectacular, cheese-based appetizers, or to accompany canapés and main dishes containing poultry, pork, veal and lobster.