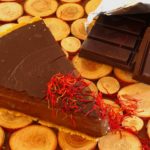 INGREDIENTS
1 ready-made Graham cracker pie crust
5 oz. (125 g) dark chocolate, minimum 70% cocoa content
1/4 cup (60 ml) milk
1/2 cup (125 ml) whipping cream (35%)
1 tbsp (15 ml) butter
2 whole eggs
1 pinch of dried saffron threads
INSTRUCTIONS
Preheat oven at 350°F.
In a saucepan, bring milk, cream, butter and saffron to a boil. Set aside.
Place chopped chocolate (or disks) in a heat proof mixing bowl.
Pour scalding milk mixture in a blender, and mix to chop the saffron threads. In batches, pour the milk onto the chocolate, and stir until mixture is smooth and silky.
Beat the eggs in a mixing bowl, and fold them into chocolate mixture.
Turn the oven off. Pour the chocolate mixture onto the Graham cracker pie crust, and place in the oven. Leave for 20 to 25 minutes.
Let your chocolate tart cool, and enjoy!
Aromatic Tricks
Let's play in the aromatic universe of dark chocolate, saffron and graham crackers. All we needed to do was to bring them together to create pure magic!