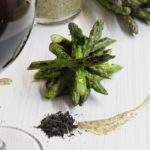 INGREDIENTS
1/2 teaspoon (2.5 ml) Nescafe Rich instant coffee
3/8 cup (90 ml) smoked black Lapsang Souchong tea infusion
1 teaspoon (2.5 g) soy lecithin powder (available in health food stores)
1/2 teaspoon (2.5 ml) fine salt
3 cloves 1 cup (250 ml) canola oil
1 1/2 teaspoons (3 g) loose smoked black Lapsang Souchong tea (see Proportions).
INSTRUCTIONS
Lapsang Souchong tea infusion: in a saucepan, bring 1 cup of water to simmer, take off heat and add 1 ½ teaspoons of Lapsang Souchong tea. Let steep 5 minutes, filter and reserve.
In a blender, add all ingredients, save for the oil and loose tea.
Blend for 2 minutes, and slowly add canola oil. Blend for 1 minute, and add loose Lapsang Souchong (see Proportions). Blend for another minute. Reserve.
NOTES
FROM LES RECETTES DE PAPILLES ET MOLÉCULES
Aromatic Trail
In this case, you should opt for red barrel-raised wines. As the "umami" flavour is dominant in this recipe, it is important the wines you choose also be rich in "umami". You can select red wines made with Garnacha and/or Tempranillo (Spain), assemblage wines such as Grenache/Syrah/Mourvedre (GSM), or some Italian Promitivos and Californian Zinfandels.

Aromatic Tricks
The browning reaction that occurs when we cook various foods is called the "Maillard Reactions". Stéphane Modat and I created this recipe as a tribute to the chemist Louis-Camille Maillard (1878-1936). The volatile compounds that are triggered when coffee and smoked black Lapsang Souchong tea are heated, or when meats and vegetables are charred or strongly browned, are from the same aromatic universe as wines that were raised in oak barrels. Coffee is a flavour enhancer that creates a synergy between foods of the same family. So this recipe was created to match perfectly with red barrel-raised wines, rich in "umami".
At the table
This emulsion is wonderful with grilled meat. Simply brush the emulsion on cooked meat, or before cooking a piece of meat (to increase the umami effect). It is also great with grilled asparagus salad. Asparagus and coffee are both rich in "taste-enhancing" molecules, as are boiled red beets, which you can sauté with this emulsion. Let us not forget the amazing union with our Unsmoked Smoked Salmon (see Les Recettes de Papilles et Molécules).
Proportions
For grilled green asparagus salad or red beets salad: use ½ teaspoon of Lapsang Souchong tea when blending the emulsion. For oven-roasted meat: use 2 teaspoons of Lapsang Souchong to strengthen the smoky flavour. For meat grilled on the BBQ: use 2 ½ teaspoons of Lapsang Souchong tea, to get an even stronger smoky flavour, which will tie in perfectly with the grilled notes.