During one of my harmonic collaborative sessions in the kitchen's of the world-renowned restaurant elBulli, and particularly at their creative workshop in Barcelona, chef Ferran Adrià and his assistant Oriol Castro were working on the creation of a type of pasta that would be somewhere between traditional Italian pasta and the Asian won ton, but using nori seaweed, the most commonly used seaweed to make sushis, as their main ingredient.
Initially, what we were trying to achieve was a "wet" nori seaweed pasta that would resemble a wonton or ravioli and stuffed with dashi. Using my research, I found out that one of the ingredients that would complement nori seaweed was raspberries, because they both share the same volatile compounds, and suggested to the chef and his assistant to explore this path instead.
Among the other ingredients that share the same aromatic profile are blackberries, violet water and osmanthus flowers. The result of our work was a temaki nori with raspberries and other (secret) ingredients in the same aromatic family that was christened Cornete de nori con frambuesa y soja and this dish was served at elBulli in 2009/2010.
Ever since returning from Catalonia, the idea of working with nori haunted me because, among the other ingredients with which it shares a common molecular profile are black olives and black pepper, and whenever one talks about black olives and black pepper, one invariably also talks about syrah/shiraz based red wines, as well as coffee, an harmonic relative that has the added benefit of softening red wine tannins.
During one of my weekly work sessions with chef Stéphane Modat in preparation for the 2011 Sélection Chartier recipes, we started down the aromatic path of ingredients that share the same profile as this seaweed and we decided to assemble ingredients that seemed iconoclastic at first glance to create sushis and raviolis for red wine lovers. Note that the black olives pomade below can also be used on canapés, to garnish a hamburger or as a grilling rub on fish and meat.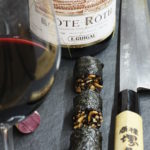 INGREDIENTS
500 ml (2 cups) water
40 g (1/4 cup) black peppercorns
280 g (10 oz) Moroccan black olives, pitted
60 ml (4 tablespoons) olive oil
Nori seaweed sheets
½ cup puffed wild rice with coffee (see this recipe here)
INSTRUCTIONS
Bring the water to a boil in a small saucepan. Add the black peppercorns and simmer for 10 minutes and cool for a few minutes.
Pour the peppercorn water in a food processor and mix for a good 5 minutes. It is very important to get a texture akin to sandy water in order to extract as much piperine as possible from the black peppercorns.
Pit the olives and blanch them in a pot of boiling water for 2 minutes. Drain.
Place the olives, olive oil and peppercorn water in the food processor and purée to a smooth texture.
Once the texture is homogenous, pour into a hermetically sealed container and keep in the fridge.
NOTES
THIS RECIPE IS TAKEN FROM THE BOOK LES RECETTES DE PAPILLES ET MOLÉCULES
Aromatic Trail
New World Shiraz and Rhône Syrahs.
Aromatic Tricks
SUSHIS_MC2 VERSION
Take one nori sheet and cut it to the desired size and wet it lightly with water using your fingers. Mix 1 teaspoon of black olive pomade to 1/2 cup of puffed wild rice and coffee (see this recipe here) and spread the desired amount on the wet nori sheet. Roll it as you would a sushi and serve whole or in bite-sized pieces.
RAVIOLIS_MC2 VERSION (WITHOUT PUFFED WILD RICE)
Cut a sheet of nori into a square of the desired size and wet it lightly with water using your fingers. Place desired amount of black olive pomade in the center and fold back into a triangle. Serve and enjoy!