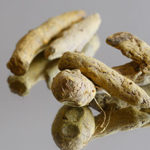 INGREDIENTS
500 ml (2 cups) vegetable oil (canola)
60 g (¼ cup) peeled, frozen ginger
INSTRUCTIONS
Heat the oil to lukewarm in a small saucepan.
Peel the ginger root, slice it and place it in a food processor.
Pour the lukewarm oil over the ginger and give it a few minutes to melt.
Mix everything to a homogenous consistency. Pour into a hermetically sealed glass jar and refrigerate.
Aromatic Tricks
Use this oil with ingredients and wines that are complementary to turmeric: they are basically twins! What's more, lychees and rum are also in the same aromatic family.