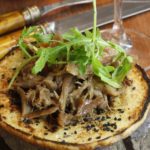 INGREDIENTS
2 duck legs confit (Brome Lake duck)
2 cups (500 ml) beef stock
½ yellow onion
1 ½ teaspoon (4.5 g) nigella seeds
2 multigrain flatbreads
3 teaspoons (45 ml) olive oil
Arugula (rocket) leaves
Mister Maillard emulsion (see recipe on our website)
INSTRUCTIONS
Preheat oven to 350ºF (180ºC). Heat duck legs for 10 to 15 minutes to loosen the meat, making it easier to debone. Debone duck legs and reserve meat.
In a heavy bottom pot, sauté onion in a teaspoon of olive oil, deglaze with beef stock and add duck meat.
Simmer until liquid has reduced to ¾. Set aside.
In a hot pan, place flatbreads, previously halved and brushed with olive oil on the soft side, 2 teaspoons of olive oil and nigella seeds. Brown flatbreads on both sides.
Once flatbreads are crispy, transfer to a plate and top with duck meat confit.
Serve this open-faced sandwich with arugula salad dressed with Mister Maillard emulsion
Aromatic Trail
Nigella is one of a number of ingredients with the power to soften the tannins of young red wines, particularly wines made with Sangiovese. So, feel free to bring out your finest Bordeaux and Tuscan wines!
Aromatic Tricks
I have long delighted in upgrading every day sandwiches, concocting gourmet versions deserving of even the finest of wines. The path we followed here is that of the power of attraction between duck meat and nigella seeds. To experience the exceptional strength of this power of attraction, I invite you to sprinkle a few pinches of nigella seeds on the skin side of a duck breast (magret) and roast in the oven. Nigella, primarily used in Indian cuisine, also serves to soften wine tannins, especially in sangiovese wine.
At the Table
You should not hesitate to add some of the arugula salad on the sandwich itself. As arugula is from the same aromatic family as nigella, it will make for an explosive combination! Moreover, you can choose to serve this sandwich closed, but do not forgo nigella seeds. Version with aged cheddar: you can also top your sandwich with shavings of aged cheddar.