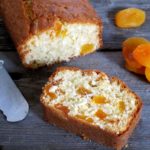 INGREDIENTS
1 1/3 cup (160 g) flour
2 tbsp (30 ml) baking powder
2/5 cup (100 g) sugar
2/5 cup (100 g) toasted coconut flakes, ground
1/4 cup (62.5 ml) pecans, ground
2 whole eggs
1/3 cup (75 g) melted butter
2/5 cup (100 g) vanilla-flavoured yogurt
1/4 cup (62.5 ml) dried apricots, chopped
INSTRUCTIONS
Preheat oven at 350°F.
Over a mixing bowl, sift together flour, sugar and baking powder.
Add ground coconut flakes and ground pecans, and whisk together.
In a second mixing bowl, add eggs, melted butter and vanilla yogurt, mix well.
Add the yogurt mixture to the dry ingredients and mix until the batter is smooth and homogenous.
Add chopped dried apricots, and mix.
Pour the batter in a cake pan. Place in the oven and bake for 40 minutes *, until cake is golden.
*To check for doneness: insert the tip of a knife in the middle of the cake and if it comes out clean, the cake is done.
Aromatic Tricks
Inspired by the little cakes and glasses of milk from childhood memories, this recipe is comfort food at its best!