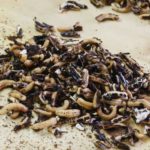 INGREDIENTS
50 g (1/3 cup) wild rice
500 ml (2 cups) vegetal oil (canola)
Salt
Ground espresso coffee
INSTRUCTIONS
Heat the oil in a deep saucepan until it's almost smoking.
Carefully throw in half of the rice and wait until it floats back up.
Scoop out the puffed rice with a fine-mesh sieve. Repeat step 2 and 3 with the remaining wild rice.
NOTE: As with any recipe involving deep-frying, remember that water and hot oil are not friends. Please be extremely careful and take your time.
Place the puffed wild rice on absorbent paper and sprinkle with salt and coffee.
NOTE: You can use this rice in recipes for red meats such as beef, duck and game, in a red wine-based braised dish and even on grilled fish such as tuna or marlin. You can also use it in desserts such as a dark chocolate mousse, a praline, any coffee-based dessert and even, why not, at breakfast with our muesli recipe.
Aromatic Trail
This very simple condiment works wonders in many a recipe where it acts as a catalyst for red wines as well as certain beers.
As suggested in my Mc2 stuffed vine leaves recipe, this coffee puffed wild rice immediately leads us towards red wines with warm tannins and a slight woody presence, as Spanish vintages from the Ribera del Duero often are, but also, as a general rule, of all modern vintages with an ambitious woody profile. Seek out red that are based on merlot, sangiovese and/or cabernet.
What's more, this puffed rice also acts as a powerful tannin softener!
Aromatic Tricks
During one of my recipe creation sessions with Stéphane Modat, certain elements of those recipes turned out to be so inspiring that we couldn't resist letting them evolve and take center stage. We came up with this union of wild rice and coffee — two ingredients that are in the same aromatic family, which creates a considerable attraction power — while elaborating our Mc2 stuffed vine leaves recipe, a recipe that can be found in the book Les Recettes de Papilles et Molécules.
What's even better is that this recipe couldn't be any simpler: wild rice flash fried in very hot oil, which magically puffs it up, to which we added ground coffee. The resulting harmonic link creates a strong bond with the other ingredients in the vine leaf recipe as well as with the wine or beer that will be paired to it. This condiment will work wonders with countless recipes such as coriander seed marinated grilled mackerel filets, a cold nutmeg milk risotto mousse, salmon lacquered with soy sauce and balsamic vinegar (recipes that can be found in the book Les Recettes de Papilles et Molécules) or roasted green asparagus dipped in dark chocolate (see this recipe here).