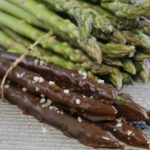 INGREDIENTS
200 g (1 package) of 85% cocoa dark chocolate
1.5 g (1 teaspoon) of Lapsang Souchong smoked black tea
20 ml (1 tablespoon + 1 teaspoon) of olive oil
1 bunch of medium-sized green asparagus Salt
1.5 g (1 teaspoon) of ground espresso coffee beans
3 teaspoons of fleur de sel
INSTRUCTIONS
Break your chocolate into smaller chunks and slowly melt it in a bain-marie (double-boiler).
Quickly rinse you black tea in boiling water and discard the water. Throw the leaves in a small pan with 1 tablespoon of olive oil and simmer to get a nice infusion.
Cut the asparagus 18 cm (7 in.) from to tip and peel the lower 2 cm (1 in.).
In a large pan, heat 1 teaspoon of olive oil over high heat. Throw in the asparagus and sauté until they are deeply colored; they really need to be very deeply roasted. Lightly salt them and lay on absorbent paper. Place in the fridge immediately to stop the cooking process.
Strain the olive oil and tea leaves and incorporate the oil to the melted chocolate.
Incorporate the ground coffee to the fleur de sel and mix well.
Once the asparagus have completely cooled, dip them head first into the chocolate, leaving the bottom 4 cm (2 in.) chocolate-free so that they are easier to pick up to eat. Sprinkle a little fleur de sel and coffee mix over them and place in the fridge again until serving.
Aromatic Trail
The obvious choices here are tempranillo-based red wines, but cabernet sauvignon-, cabernet franc-, merlot- and/or malbec-based wines aged in new oak barrels will also fit in the harmonic comfort zone of this roasted asparagus/dark chocolate/smoked black tea triumvirate. It should also be noted that smoked black teas other than the classic Lapsang Souchong could also be used, such as the eclectic Zheng Shan Xiao Zhong (www.camellia-sinensis.com).
A strong black coffee would also create a nice symbiosis alongside those roasted, smoked and "cocoaed" asparagus. You could also explore dry Sherries such as amontillados or olorosos, which are chockfull of methoxy pyrazines, to give another dimension to this dish. Finally, if you are looking to make your taste buds — and neurons! — shiver, look into heavily sherry barrel-aged scotches such as the Macallans!
Aromatic Tricks
The idea of combining asparagus with dark chocolate came to me while I was studying the aromatic molecules in the large pyrazine family. Pyrazines are extremely varied and complex aromatic compounds that make up the flavor profile of roasted asparagus, dark chocolate, coffee, oak barrel aged red wines, especially tempranillo-based ones, as well as merlot- and cabernet sauvignon-based wines.
Many recipe ideas were borne of this understanding of pyrazines while experimenting with my partner in crime, Stéphane Modat. Without this scientific knowledge of the aromatic components of the asparagus, we would surely never have gone down that creative path, let alone try to pair asparagus with tempranillo- or merlot-based reds! As a matter of fact, I dare you to serve green asparagus simply roasted in olive oil as a side dish with a nice piece of grilled red meat and a glass of any wine based on the aforementioned grape varieties: you will realize for yourself that asparagus are far from being the enemy of red wine, as so many people believe…
It is interesting to note that methoxy pyrazines such as the ones contained in asparagus, cocoa, krill oil, smoked black tea and sherry are used in the processed food industry as a flavor enhancer, and that's what explains the explosion of flavors in this recipe that marries roasted asparagus, dark chocolate, smoked black tea and woody red wine.