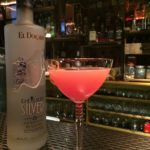 INGREDIENTS
1 ½ oz. El Dorado De Luxe Silver 6 years Demerara White Rum 
¼ oz. Grand Marnier
½ oz. Xeres Fino or Dry Sake
2 oz.  fresh squeezed blood orange juice
1 teaspoon saffron
1 dash Regans Orange Bitter
Glass: Cocktail or wine glass
Garnish: A twist of orange zest
INSTRUCTIONS
Infuse the El Dorado De Luxe Silver Rum with the saffron (1 teaspoon of saffron in 250 ml of rum) for 45 to 60 minutes. Mix all the ingredients in a shaker and filter finely.
Aromatic Trail
This cocktail allows for surprising pairings with dishes containing ingredients that share aromatic compounds with saffron, whether you're thinking of appetizers, tapas or starters, such as recipes where the dominant aroma is cardamom, ginger, apples, leeks, mint, pink grapefruit, rosemary, basil, rose water, xeres fino, sake or even… spruce beer!
Aromatic Tricks
This cocktail, the Spanish Orange (Española naranja), was inspired by the aromatic profile of the El Dorado De Luxe Silver 6 years Demerara White Rum , and created in close collaboration with mixologist Simon Faucher (Les Rouquineries), with whom I shared of my research on the aromatic paths of rums and the complementary ingredients to mix cocktails and cook with, and once more, it will delight thrill seekers! You see, the aromatic notes of citrus fruit and saffron are one and the same with this type of rum, whose dominant aromatic molecules they share, thus creating, once they are assembled with this excellent rum, a powerful aromatic synergy that expresses itself as tasty as it is palatable, while also being the perfect companion to canapés, tapas and other starters!