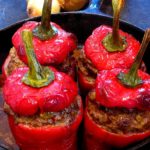 INGREDIENTS
3 medium yellow onions, chopped
2 cloves of garlic, crushed
15 ml (1 tablespoon) olive oil
15 ml (1 tablespoon) butter
10 ml (2 teaspoons) paprika
65 ml (¼ cup) raisins
250 ml (1 cup) breadcrumbs
65 ml (¼ cup) whole milk (3.25%)
454 g (1 lb) medium ground beef
1 egg
10 ml (2 teaspoons) sesame oil
4 red bell peppers
Salt, pepper
250 ml (1 cup) beef broth
INSTRUCTIONS
Preheat the oven to 180 °C (350 °F).
In a pan, sauté the onion and garlic in the olive oil and butter mix. Add the paprika and raisins and remove from the heat. Reserve and let it cool.
Mix the breadcrumbs and milk in a bowl.
In another bowl, combine the meat, egg, breadcrumb mix, sesame oil and mix evenly. Add the cooled down onion, garlic and raisins preparation and mix evenly. Season to taste. Reserve.
Cut the top off of each red bell pepper, remove the seeds and white membranes and stuff with the meat preparation.
Place the red bell peppers in an oven-ready dish and pour 125 ml (½ cup) of beef broth. Cover with tin foil.
Place in the oven and bake for approximately 45 minutes or according to the size of your bell peppers.
Aromatic Trail
Here is a super simple yet super aromatic dish created specifically to pair with oak-aged red wines, especially merlot, but also cabernet sauvignon or cabernet franc, which all share aromatic tones with the red bell pepper/sesame oil/paprika triumvirate.
Aromatic Tricks
Going from a fish-stuffed yellow bell pepper — one of our recipes published in the 4 volume Papilles pour tous! series — to a beef-stuffed red bell pepper was quite obvious! All that was missing was some paprika and toasted sesame seeds, which have a great synergy with roasted red bell pepper, and the Papilles! aromatic magic happened. Barrel-aged Merlot wines,are the perfect companion to that aromatic synergy.