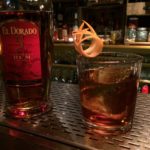 INGREDIENTS
1 ½ oz. El Dorado's 5 years old Premium Demerara Dark Rum
½ oz. Maker's Mark bourbon
1/3 oz. Fernet Branca
1/3 oz. Kahlùa
¼ oz. maple syrup
ELABORATION
Glass: Old fashioned
Garnish: Orange zest
INSTRUCTIONS
Stir all ingredients in a mixing glass and pour over a large ice cube. Cheers!
Aromatic Trail
This cocktail will make a sensation when served alongside prune and bacon morsels, smoked sausage and bacon morsels or with blue cheese and nuts.
Aromatic Tricks
This cocktail was inspired by the aromatic profile of El Dorado's 5 years old Premium Demerara Dark Rum and created in collaboration with top mixologist Simon Faucher (Les Rouquineries). If you are looking for a powerful experience, this is the cocktail for you! The congregation of the bourbon's spicy/smoky/oaky notes, the Kahlùa's sophisticated dulcitude, the complex woody sweetness of the maple syrup and the striking roasted flavour of the Fernet Branca, a bitter aperitif all share some of the same dominant molecule that, once mixed together with this excellent dark rum, create a powerful aromatic synergy in this cocktail that is greater than the sum of its parts.
Serving Trick
Go ahead, go crazy! Turn this cocktail into a long drink by adding dark beer, such as a stout, to it, or even better, a smoked porter! The result will blow you away!