This recipe is specifically created to enhance our Beef tartare with shiitake mushrooms, red beet vinaigrette and Parmesan shavings recipe (see recipe here).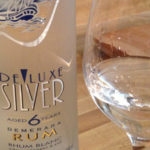 INGREDIENTS
Cheese curds
125 ml (½ cup) ginger oil (see recipe)
60 g (½ cup) lychees in syrup
INSTRUCTIONS
Place cheese curds in a single layer at the bottom of a flat, hermetically sealable container and pour the ginger oil* over them. Cover and shake to uniformly coat the curds with the oil. Refrigerate to marinate for at least one full day.
About an hour prior to serving, drain the lychees and cut them in quarters. Add the lychees to the cheese curds and shake to uniformly coat them in the ginger oil. Marinate for another hour.
Drain the cheese and lychees and enjoy with an El Dorado white rum based-cocktail.
Aromatic Trail
El Dorado 6 years Deluxe Silver White Rum
White rums with such finesse and aromatic precision are few and far between. This one is devoid of alcohol-based heat and is typified by its notes of cloves, pepper, bananas and coconut. This is due in large part to its double filtration and to 6 years of aging in oak casks. As a matter of fact, the second filtration is done using charcoal, which explains its limpidity despite such a lengthy oak aging process. It is ample, enveloping and almost sweet (but sugar free!) with aftertastes of sweet spices, bananas and mango.
Basil… Mojito!
By all means, do not hesitate for a second to enjoy this white rum au naturel, straight up, with nothing but a few ice cubes: it's got so much to offer! Obviously, though, it will work wonders in many a cocktail, including the very fashionable mojito, but dare to replace the traditional mint with basil: this will increase tenfold the synergy of this beautiful white rum's aromatic profile!
Mixing and cooking ideas by Chartier Créateur d'harmonies
Whether you use this El Dorado white rum to mix cocktails or cook dishes, you will take full advantage of its aromatic synergy by using the following ingredients: red beets, Thai basil, mangoes, bananas, chocolate, cloves, black peppercorns, ginger, lychees, coconuts, pork, scallops, pecans, peaches, apricots and maple. With these as your secret weapons, you will create the most aromatic cocktails and recipes ever! As a final note, let me just say that this wonderful rum will create magic when simply mixed with ginger beer or even ginger ale as a pairing with our mc2 Cheese curds tapas with ginger and lychee oil recipe.
Aromatic Tricks
Here, we modernized this as-Québec-as-Québec-can-be cheese, known as cheese curds, by marinating it in one of our infused oils (many recipes can be found in the book Papilles pour tous! Cuisine aromatique d'Automne) and served as a tapas, toothpick in one hand and a glass of wine or white rum in the other! Only use herbs and spices that are in the same aromatic family as cheddar, the basic ingredient of cheese curds, to ensure you get the most vibrant aromatic synergy. You can also follow the specific path of these cheesy curds to add a few more ingredients. For this recipe, we followed the path of the aromatic twins that are ginger and lychees; twins who morph into triplets once you introduce white rum to the mix!